Spring 2018 Desert Road Trip: Part Two
May 01, 2018
The next destination in my journey was Grand Gulch, now officially known as the Grand Gulch Wilderness Study Area, in southern Utah. I had been to this area many many years ago on a backpacking trip, and I was curious to see the changes. I was also curious to see the areas that were, until recently in the Bears Ears National Monument, and those that still are. The conservation of these type of national historic treasures is something very important to me, so I'm naturally concerned about their preservation. This area of Utah is literally a living museum.
After speaking to the highly knowledgeable and friendly staff at the Kane Gulch Ranger Station, I found myself full to overflowing with ideas of where to go and what to see on a week long trip that suddenly seemed way too short. I started my hike into the nearby Bullet Canyon and quickly descended deep into a magnificent slickrock desert world. After a long, arduous hike I was rewarded with reaching the first of my goals, a set of ruins that were, as usual, set up above the canyon floor in a south facing overhang. The primary feature here being a ruin known as Perfect Kiva. It was a very well preserved, and partially reinforced Kiva that visitors are allowed to descend down into via the wooden ladder. What a treat!. There is something about finding such a place in its natural environment that I find makes it extra special and deeply rewarding, especially after a long morning hike.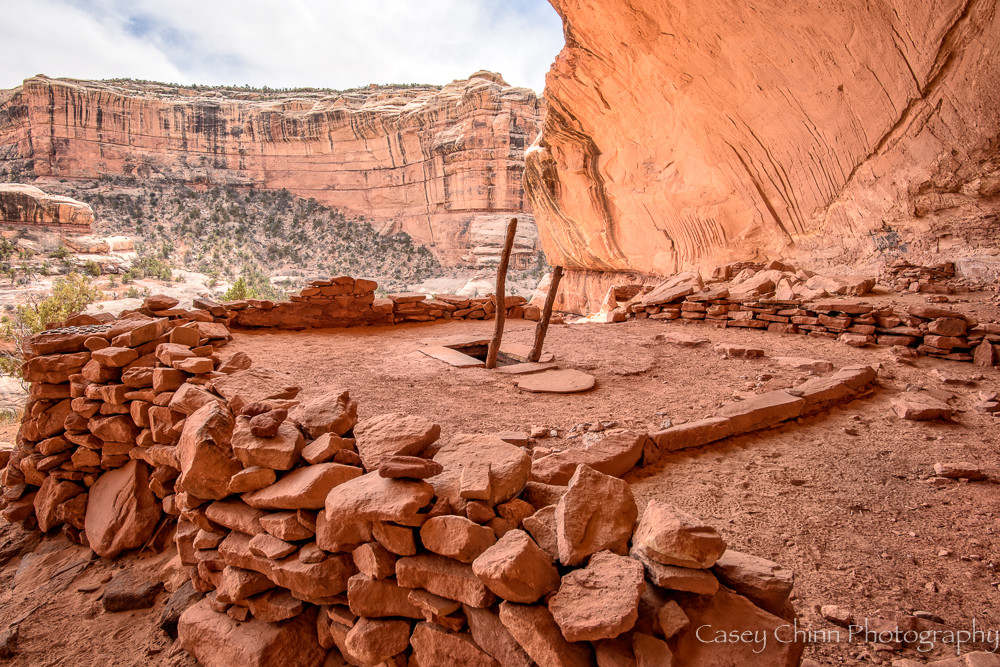 Perfect Kiva in the Grand Gulch Wilderness Study Area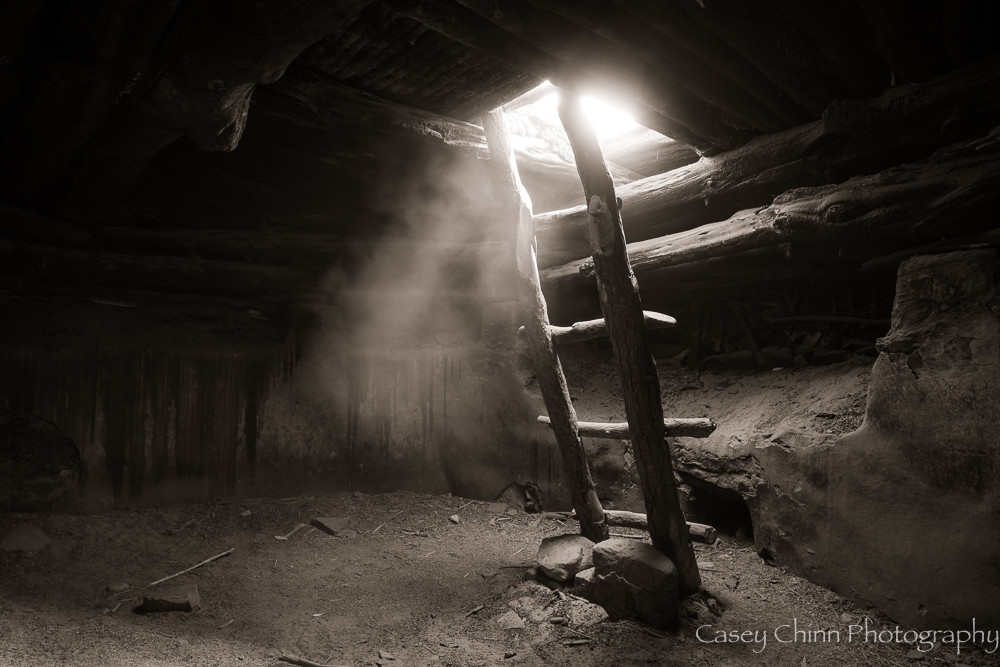 Inside the Perfect Kiva, Grand Gulch, Utah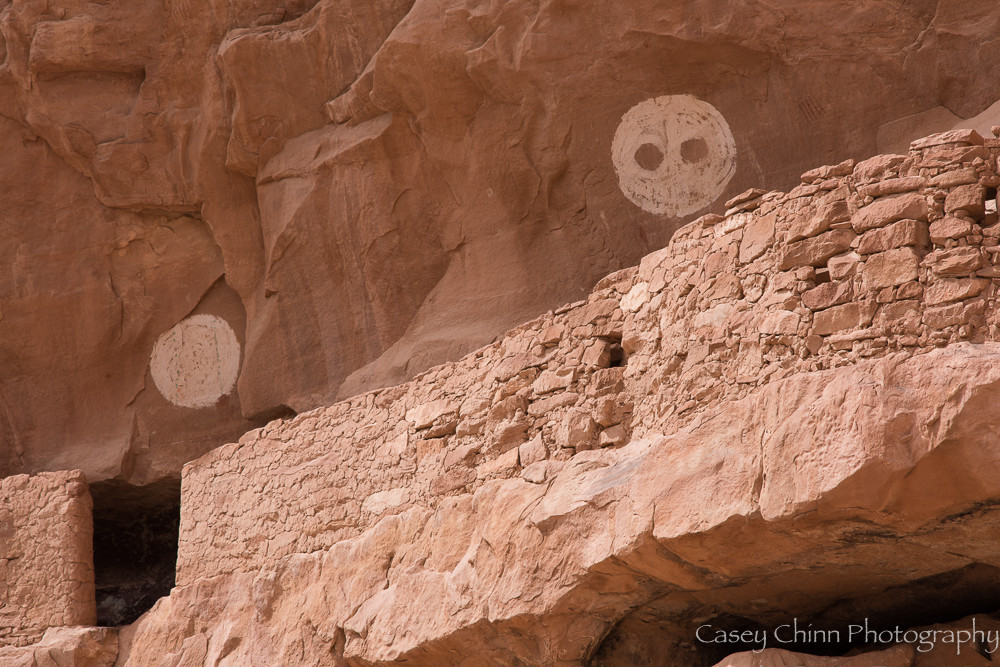 A short distance down the canyon was another set of ruins which announced themselves with a striking white face painted onto the rock wall above the upper ruins, and another round white shape nearby. The lower ruin in this group, known as Jailhouse, presumably for the well preserved wooden framework in the window opening, was accessible after a scramble up the slickrock.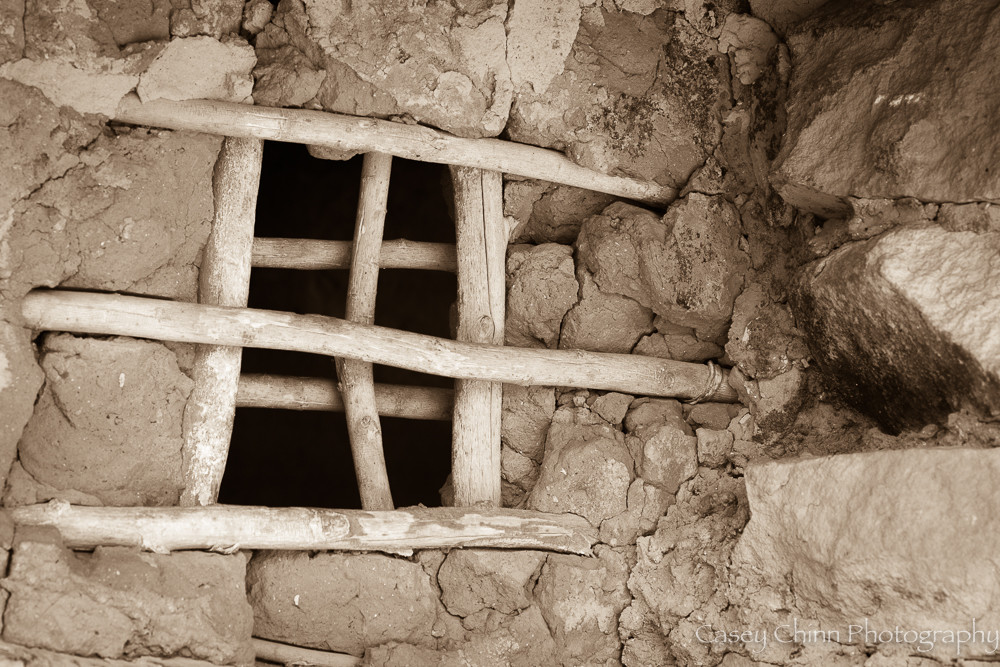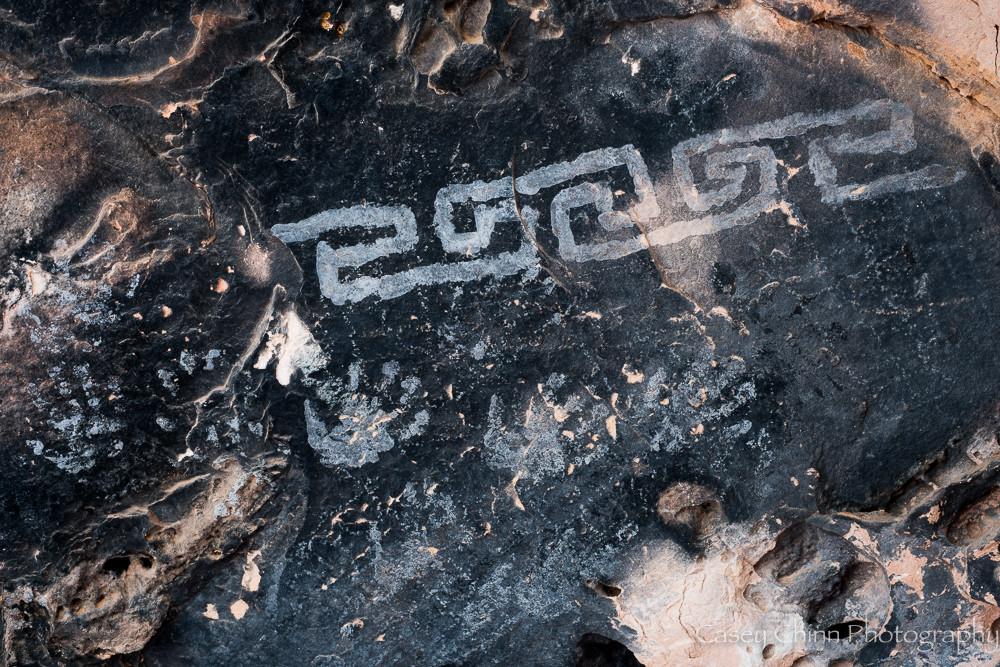 Additionally, there were a number of pictographs on the walls above. Mostly hands, but also an interesting pattern, all of which were painted onto the rock with white paint against darkened rock in the overhang.
After enjoying these a while I began the long trek back out. I had chosen to make this a day hike, but it is very popular as part of an overnight loop, and next time I will do that. After the hike out I was beat and was grateful to find another great campsite and rest up.
---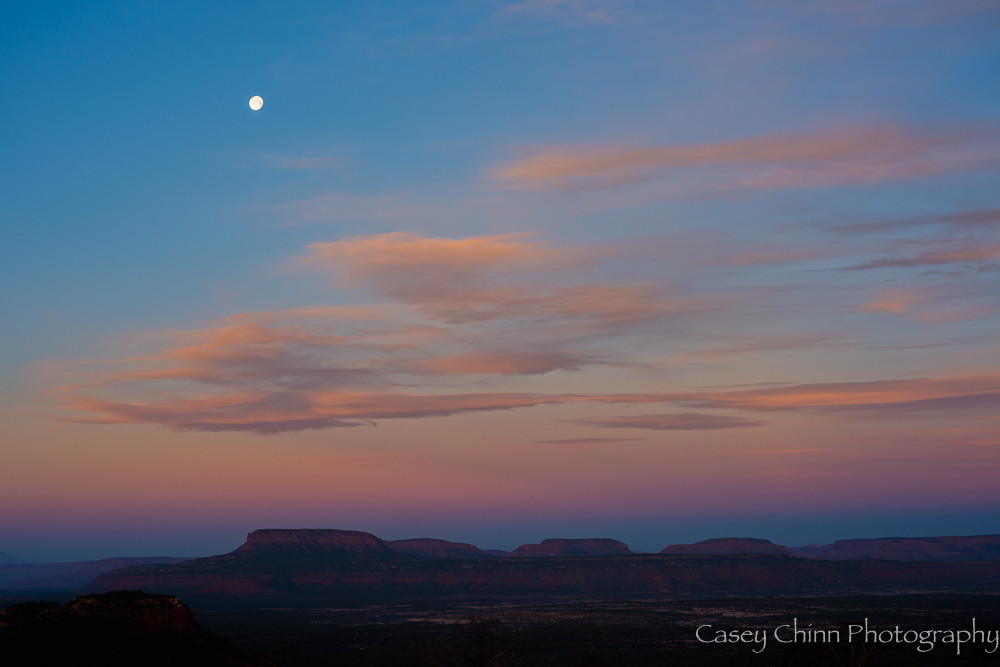 Pastel colors in a pre-dawn sky, near Bears Ears National Monument
The next day I was treated to a beautiful sunrise headed down the road a short way to Mule Canyon for a short hike and more spectacular ruins; House on Fire. It's pretty obvious why they are named this. When the late morning sun hits the rocks in front of them they get a wonderful glow. This combined with the lines on the sandstone above them radiating upward makes for some wonderful ruins to photograph. I was surprised how small they are. Probably some type of grain storage and not a dwelling.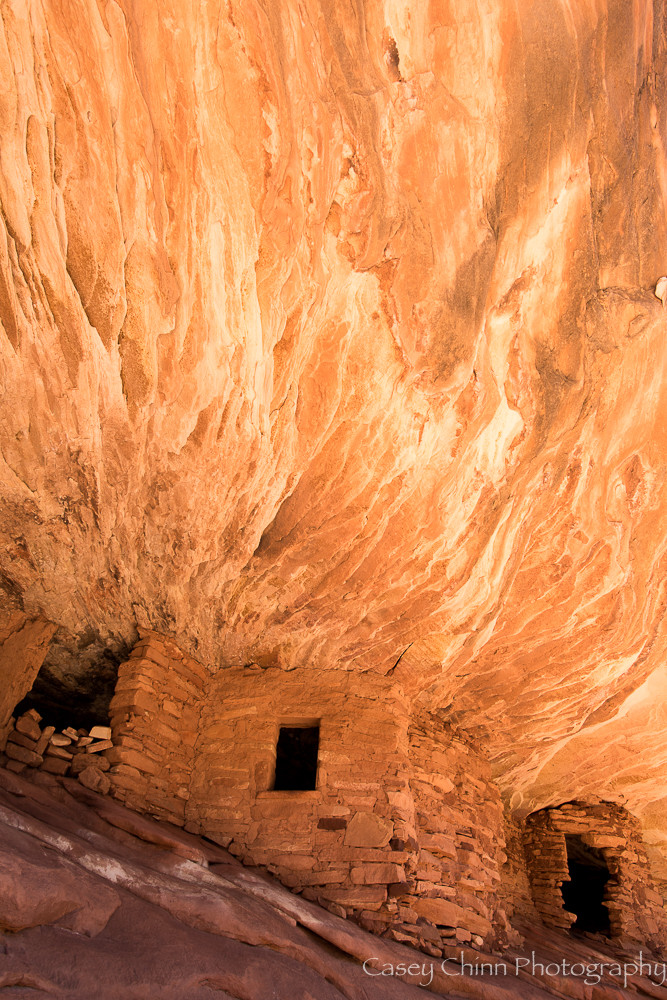 House on Fire Ruins
For the next part of the journey I had chosen to get off the beaten path and drive the 20+ mile long drive down a dirt road that follows Comb Ridge, a steep fold in the rock surface of the earth known as a Monocline. This is the only area I traveled through that is actually officially in Bears Ears National Monument. It was my understanding that this area was full of ruins that require taking short side hikes off of the main dirt road up to the ridge. Thanks to the help of some new friends that I had met on the hike the day before, I had info on two different areas to check out. Both proved to be worthwhile areas to see, although most of the sites were not as well preserved as those in the Grand Gulch area. It still made for a great addition to the journey.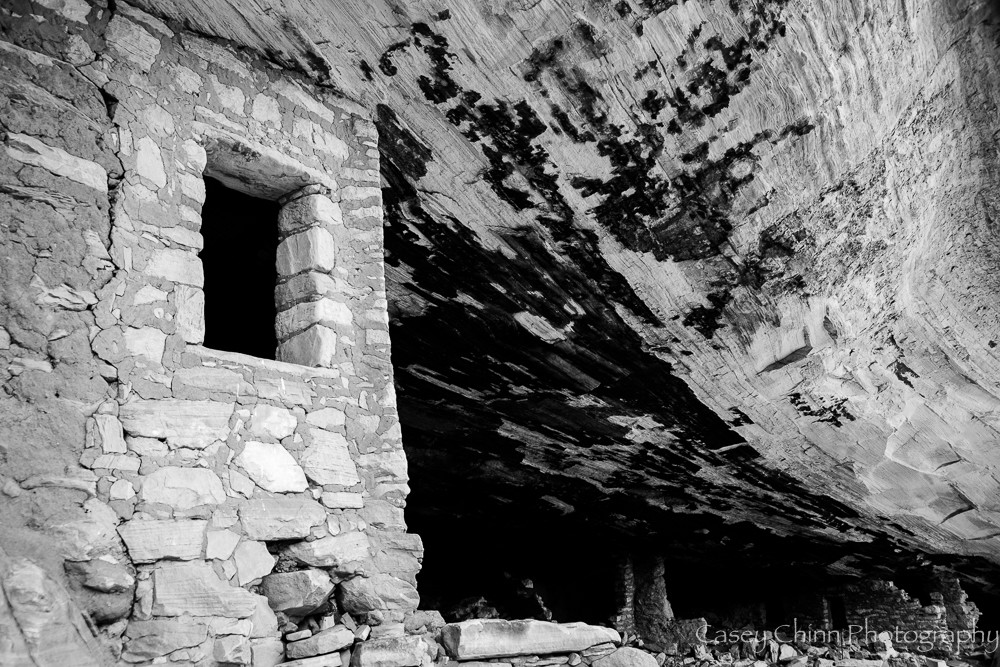 Unnamed Ruins, Bears Ears National Monument
I drove the long, dusty drive down the rest of the road and camped that night in Valley of the Gods. That's where I'll pick it up for the next installment.