Spring trip to the desert: Part one
Oct 20, 2022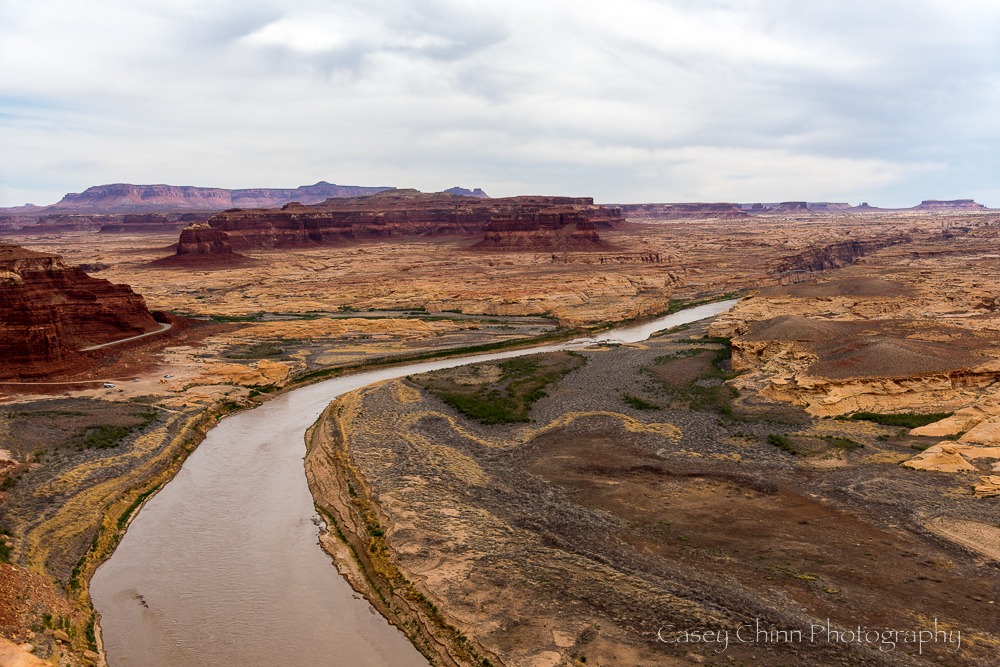 Looking north along the Colorado River at the Hite Overlook, Utah
I had the opportunity to take a wonderful spring trip down to Utah. I always enjoy the desert in the springtime. It's such a beautiful time of year there. The days are warm yet not overly hot, and the flowers are beginning to bloom. This particular trip, while great, ended up being a bit different than I had originally envisioned. I was planning to go down to Lake Powell and photograph areas that had in previous years been underwater. I was curious to see it now as the conditions have changed so much from when I used to go there years ago vacationing with a group of friends. It was a surprising sight to be sure, as you will see.
Coming into Utah, I made my first stop at Sego Canyon, one of my favorite set of pictographs in Utah. I've photographed these before, but it had been quite a few years ago so I was anxious to see what kind of condition they were in. Thankfully, time and vandals had been pretty kind.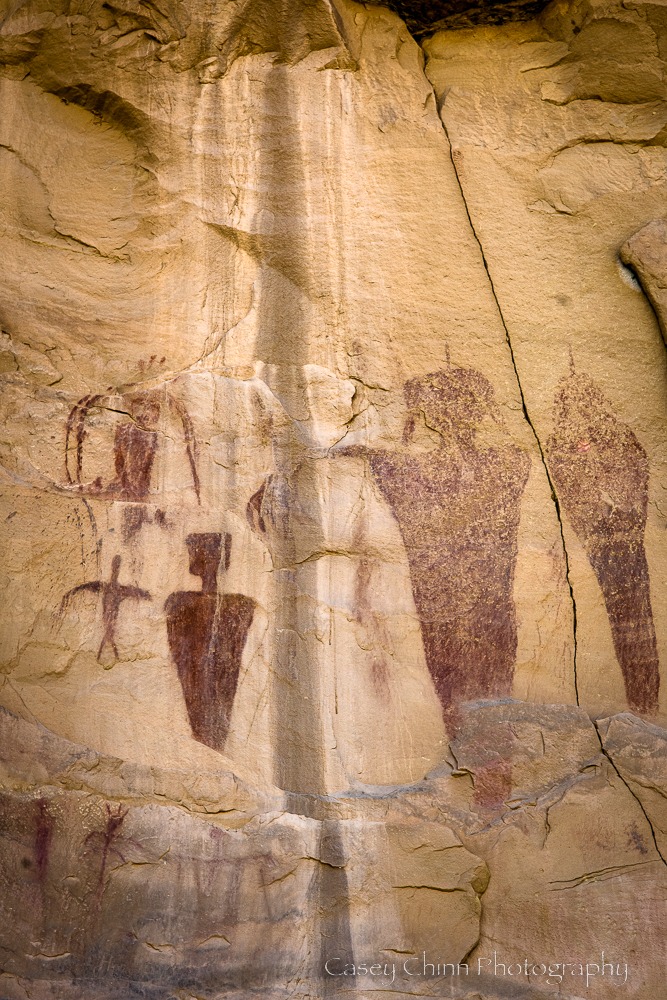 Pictographs at Sego Canyon, Utah
It so happened that the beginning of my trip coincided with a lunar eclipse. I decided to go to Goblin Valley State Park to camp on my first night and photograph the eclipse from there. Goblin Valley is a landscape of strange Hoodoo rocks and seemed to me to be a perfect place to provide a foreground for the eclipse. I managed to find a pair of rocks that would frame the eclipse, and I captured this photo of the nearly full eclipse before the sky became cloudy and the moon disappeared from view for a while.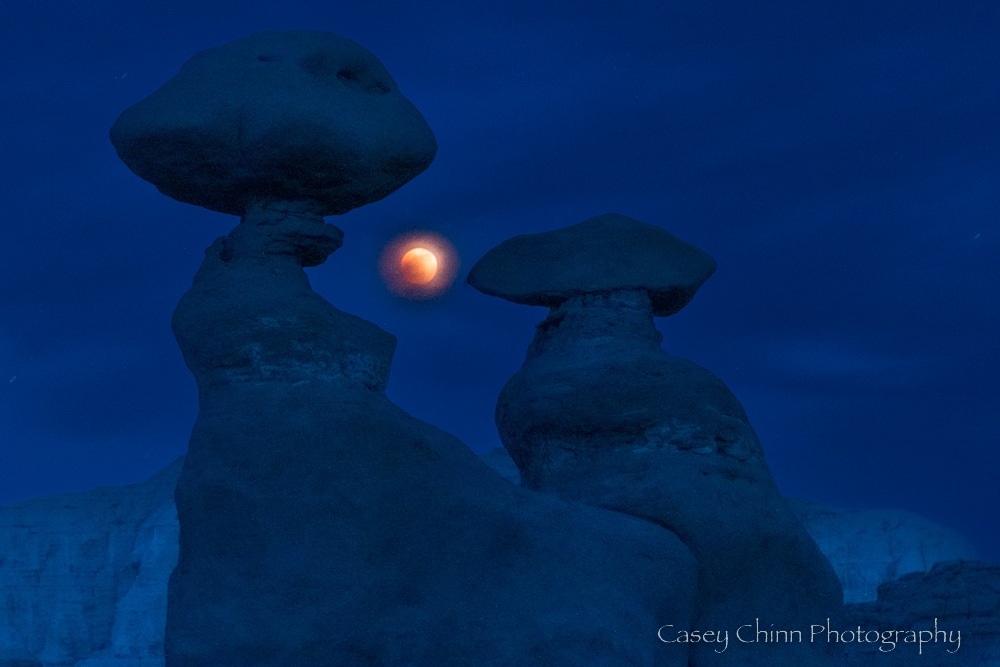 Lunar Eclipse at Goblin Valley State Park, Utah
The next day I continued heading South toward my main destination for the beginning of the trip, which was Halls Crossing.
My first stop as I approached Lake Powell from the north was Hite Marina. Or I should say the area historically known as Hite Marina. The photo here was taken from an overlook looking southwest down what is now once again the Colorado River. Off on the left-hand side is the concrete pad that used to be a boat ramp. This was my first clear view of just how much this area has changed. At this far northern point of what used to be the reservoir, it is now the Colorado river. And you can see in this photo how far the shores of the river are from what used to be the boat ramp.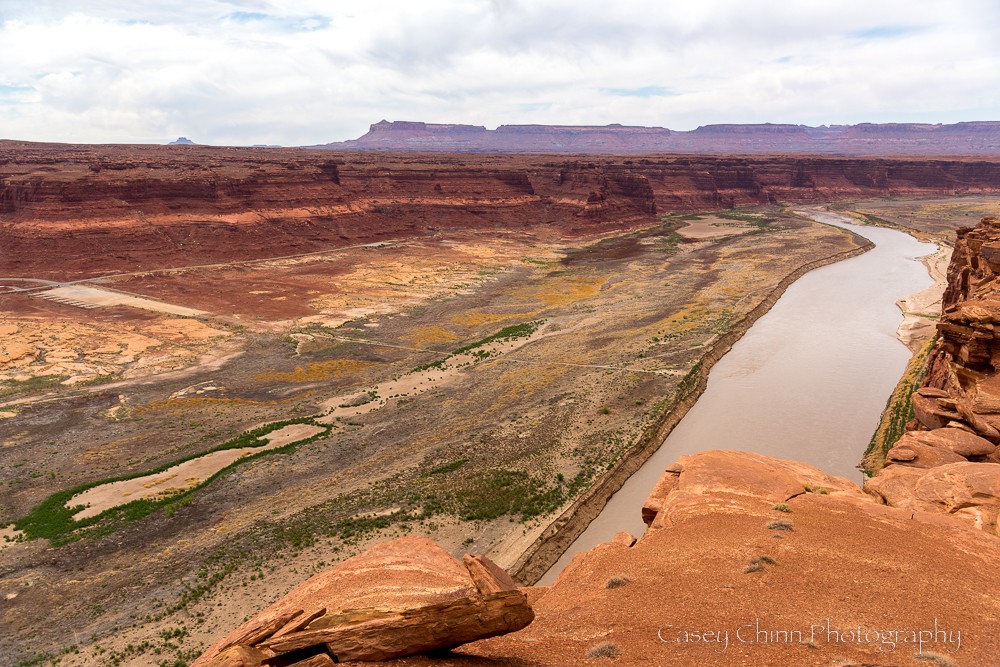 Looking south from the Hite Overlook, Utah
I drove on down to Hite and had a look around. It was like an eerie ghost town. Campgrounds were empty and I was the only soul moving about that I saw. The remnants of boat docks and buoys and other paraphernalia of the reservoir just sitting there in the warm desert sun was truly eerie. It felt almost post-apocalyptic.
Dock to nowhere, Hite Utah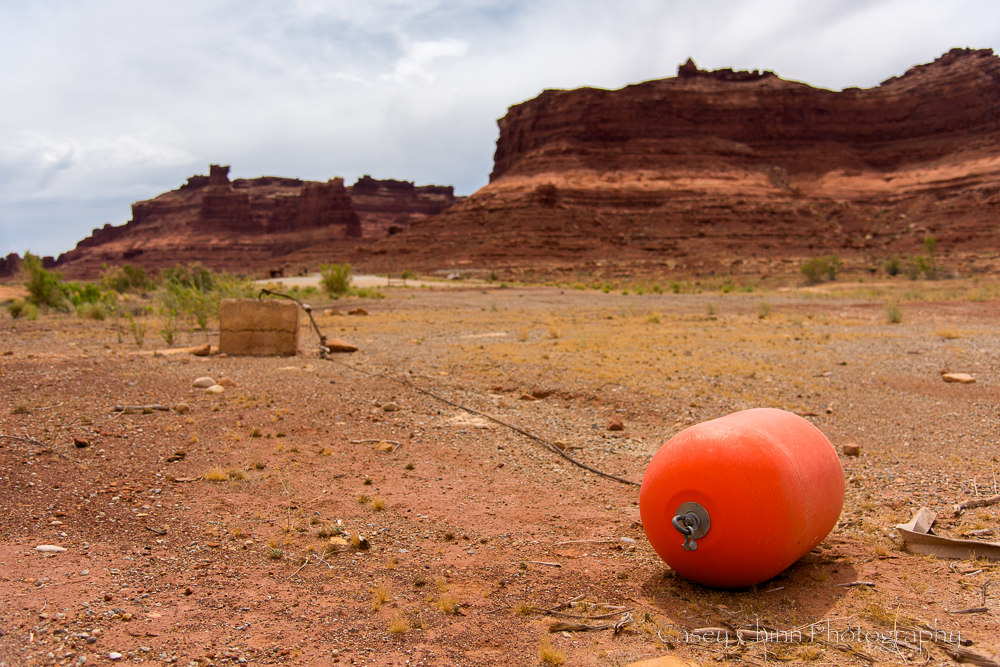 Buoy in the desert, Hite Utah
I drove further South, making for Halls Crossing. This is where I planned to put in my boat and explore a bit more by water. The Marina at halls was as much of a shock as Hite had been. Although a few motorboats came by, and there were still some services available such as gas and a restaurant, for the most part it was a ghost town as well. The photos show some of the discarded remnants of the reservoir sitting out in the desert and rotting away as a stark reminder of a changing climate.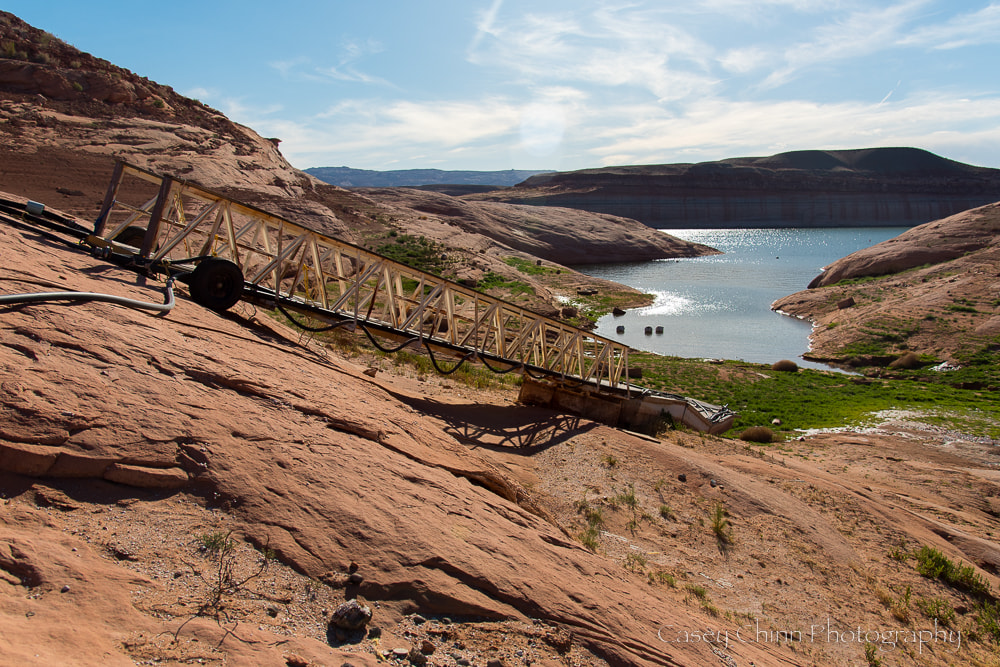 Dock making it partway to the water, Halls Crossing Utah
It was getting late in the afternoon, but I managed to blow up my inflatable kayak and paddle across the main channel to a camp spot on the other side. it was not nearly as remote as I would have liked as there was a group camping across a small bay from me. Also, at one point as I walked around and explored, I found a pile of dead and rotting fish that had been abandoned there by some fishermen. The stench was terrible. But back at my camp the night was warm, and the sky was a beautiful pink at sunset, and the sound of frogs filled the air s it got dark. So, all in all still not bad.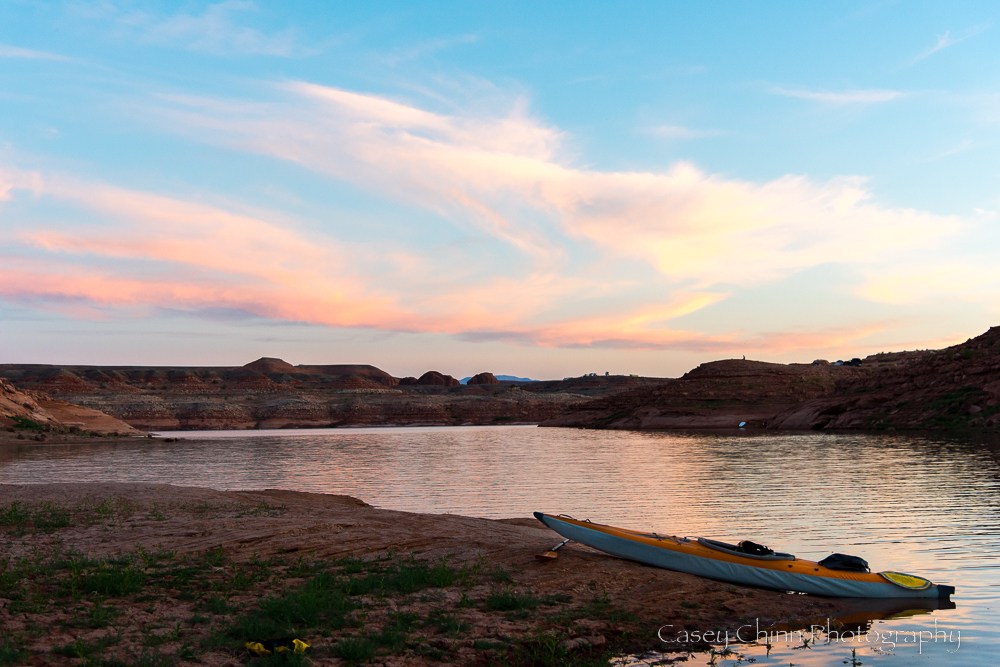 Sunset light from my camp on Lake Powell, Utah
The next morning, I struck out in my kayak, making for Moqui Canyon. I was curious to see how different this beautiful section of the lake was. As I paddled along in the morning sun I heard the telltale high pitched sound of air escaping and discovered a tiny leak in one of the main air chambers of my inflatable kayak. I had a patch kit with me, but not a pump. And given the fact that I was heading for an area where I would have nothing but sheer sandstone walls on either side rising hundreds of feet up from the water, and thus nowhere to beach my boat to make further repairs if needed, I decided to turn around and head back to the marina.
Thus ended my exploration of Lake Powell. Part of what I realized was that the expanse of this area is so vast that it's just a daunting task to explore it in a kayak. Plus, I was alone. A friend who had planned to come on the trip with me had to cancel at the last minute. Also was the fact that, at least in the Marina area, the environment was dirty and trashy. It seems that often that is what accompanies area used as reservoirs. And I am as guilty as any. The trash left behind at the shores of Lake Powell was truly saddening. So needless to say, I wasn't motivated to stick around any longer.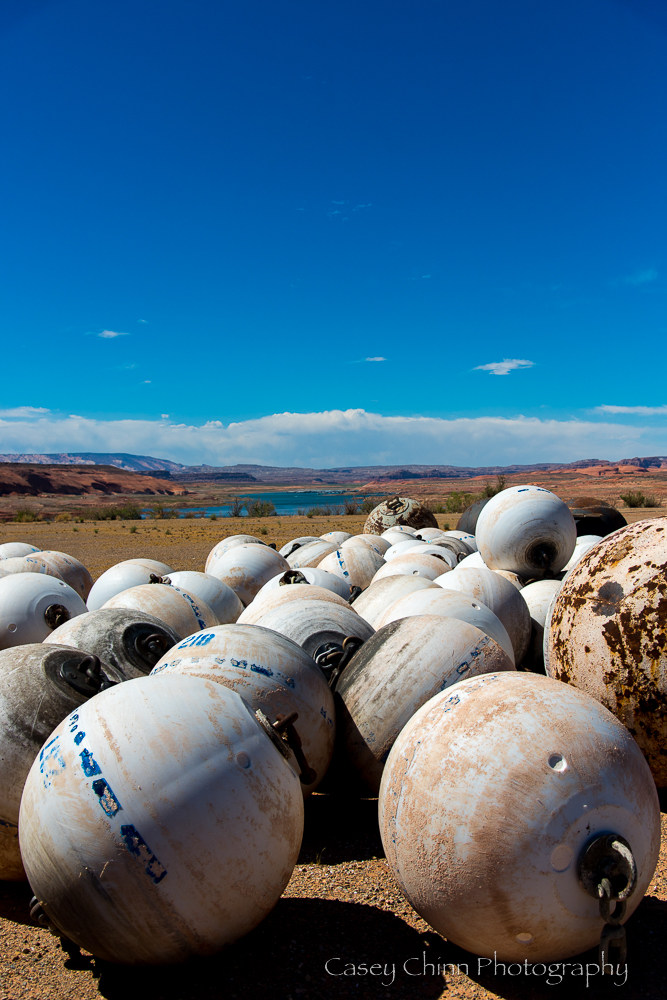 Anchors, Halls Crossing Utah
Being at Lake Powell brought up mixed emotions for me. On the one hand I have fond memories of the place from back in the 90's when I used to go out there with a group of friends every year and rent a houseboat for a weeklong vacation. On the other hand, as I've gotten older, I've had more of a chance to read the stories of people like Edward Abbey who saw Glen Canyon and this section of the Colorado River in the era before the dam, when it was wild and beautiful. There is also a wonderful book of photographs of Glen Canyon by Eliot Porter (link below). This area has even been referred to as the lost national park.
I've also become more aware of our changing climate, and how this area really wasn't ever a good fit for a reservoir. With the heat in the summertime and the subsequent evaporation it was never a good way to store water. Yes, the hydroelectric provided power, and still does, for millions of people. But that too is in danger of failing as the reservoir dries up and the river itself diminishes. So, I left Lake Powell with a heavy heart. Sad to see what it's become and uncertain of what the future will be. Perhaps one day I'll get to see this area with a wild river once again flowing through it. I think part of me was hoping to see a piece of that, and for this trip at least, it was not the case. But I will be back because I think this is an important environmental story unfolding.
I decided to head north and make for an area I have been to several years ago called Grand Gulch. It's in Bears Ears National Monument, which lies just a little north and West of Lake Powell. I know from past experience that there are plentiful on Anasazi ruins and stunning natural scenery there. My trip north will be in the next installment.
For more information on Lake Powell and the re-emerging Glen Canyon, visit the Glen Canyon Institute
or check out the book "The Place No One Knew" by Eliot Porter