Spring trip to the desert, part two
Nov 10, 2022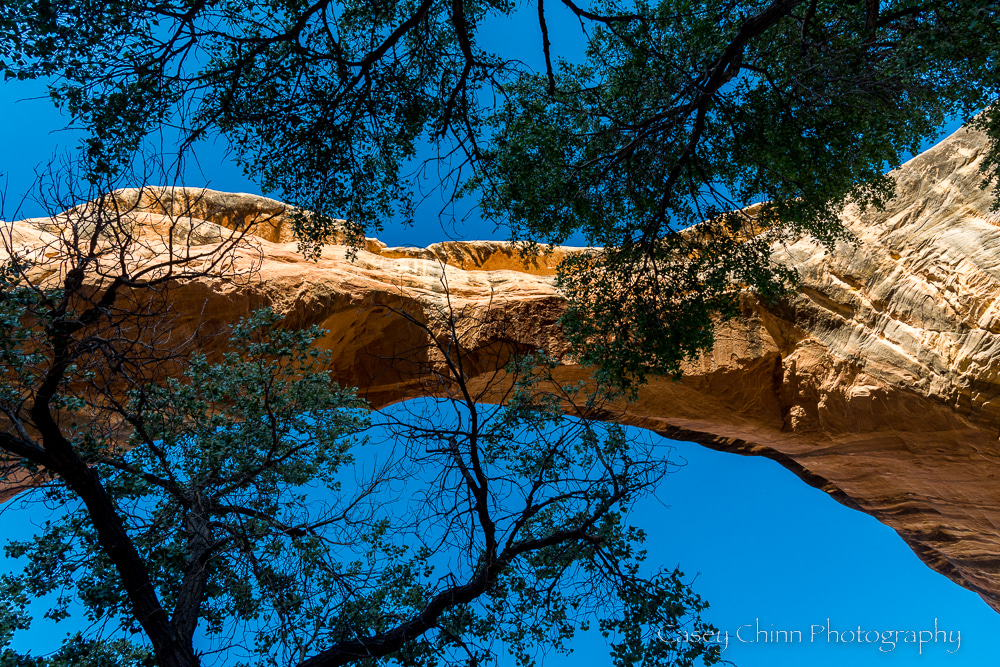 Sandstone bridge dividing the sky, Natural Bridges National Monument Utah
After leaving Lake Powell I began heading north and west towards my new goal which was an area called Grand Gulch, located within Bears Ears National Monument. The canyons in that area, all of which require moderate to strenuous hikes to get down into, contain an abundance of Anasazi ruins and rock art. The area is a real living museum of history, and has thankfully stayed pretty well preserved, probably mostly due to the fact that it takes some effort to get down into it. Sites that are closer to roads tend to be vandalized at a much higher rate than places that one must get to by hiking or even backpacking.
Wanting to get an early start the next morning, I stopped by the Kane Gulch ranger station and obtained my permit for two nights down in the canyon starting the following day. I then decided to camp just outside of Natural Bridges National Monument. A wonderful little treasure trove of natural rock bridges spanning a deep and winding canyon. Taking a short hike down into the canyon I was able to see one of the prominent bridges from below. The resulting image of the greenery and the rock bridge stretching across the sky in the photo at the top of the page is something that I think can only really be found in Utah.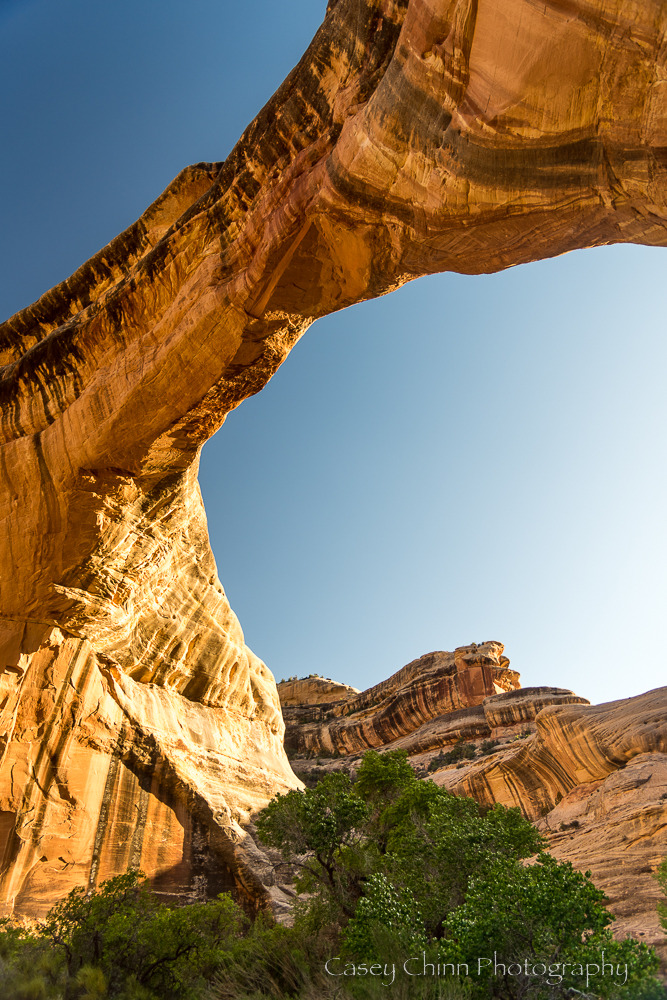 Sipapu Bridge from below
Just a side note, natural bridges are different from arches because they span waterways. Or they normally do. All of these did at one time, and probably will again when heavy rains come. But on this trip, it was a dry gully. Something that I would become used to, and would in fact create challenges for me on my backpacking trip the next day. No doubt a result of the decades of drought that this part of the West has suffered.
As I came back up to the rim from the canyon below, I saw these vultures congregating, apparently waiting for an evening meal. As I watched I saw more and more of them, mostly gathering in a dead tree high above the canyon where they must've had a great view of any potential food down below.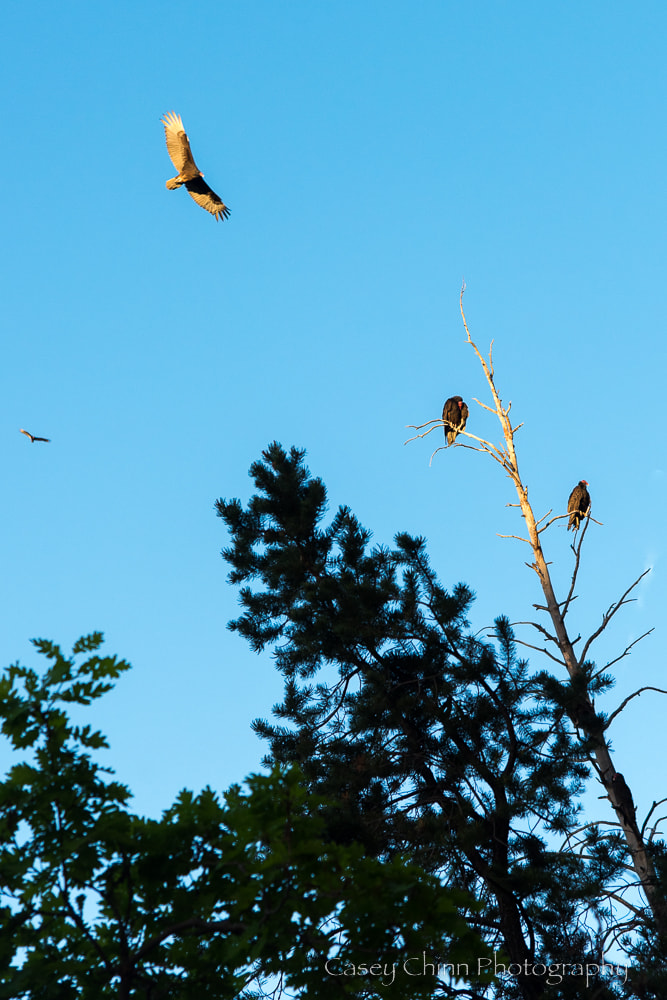 Vultures gathering at sunset, Natural Bridges National Monument Utah
Being that it was May, it was also wonderful to see the desert in bloom. Lots of little wildflowers everywhere.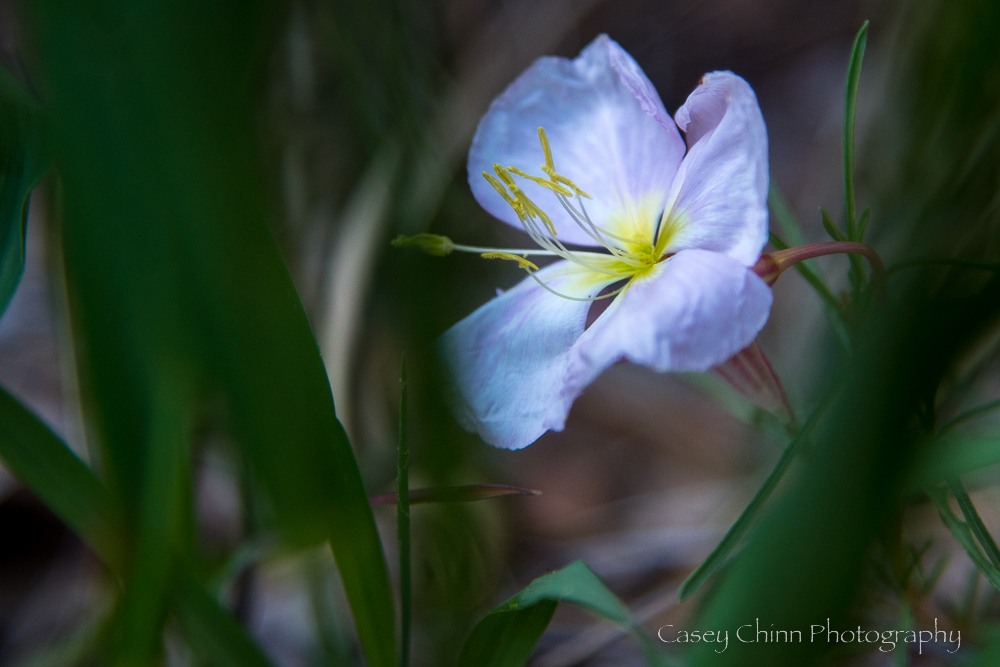 Wildflower hidden in the tall grass
This is an area with lots of unexpected treasures. I've only made brief trips to it on a couple of occasions, but I left this one knowing that I need to be back for a more prolonged photo exploration. Perhaps next spring.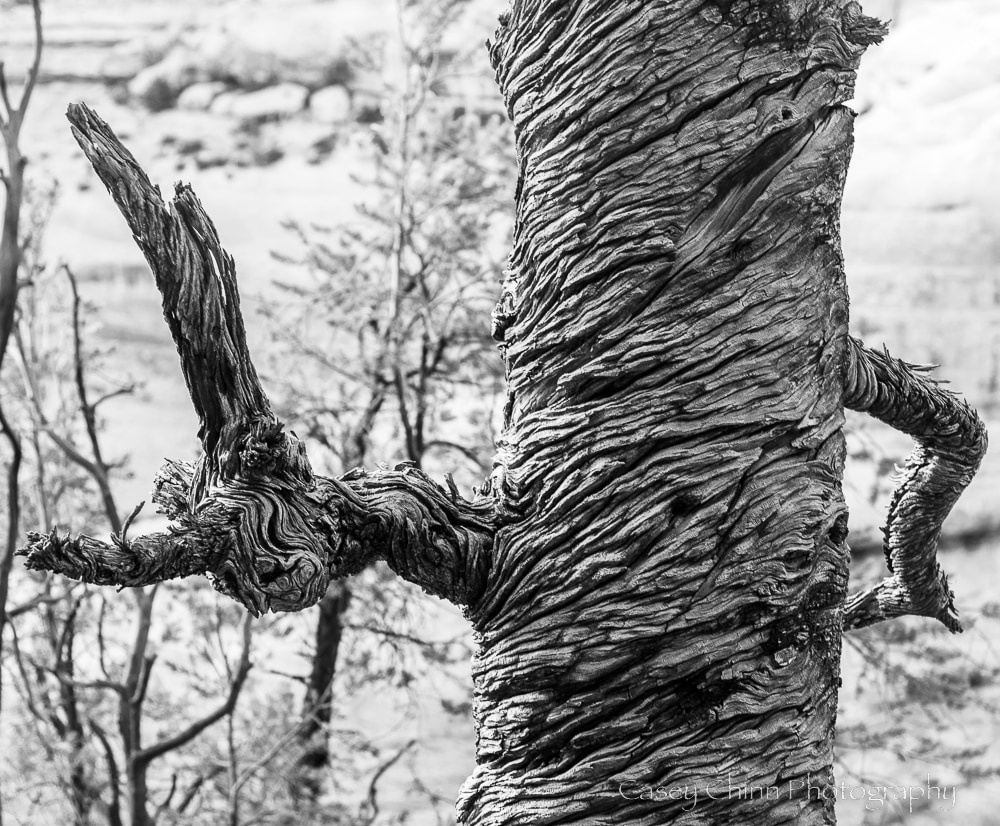 "Old Man Tree" A weathered and twisted tree down in the canyon
The next morning I begin my backpack trip down into Kane Gulch, which was the starting point for my trip into Grand Gulch. I had been there briefly a few years before so I had a good idea of what to expect, but it was nice on this trip to have the luxury of a little more time.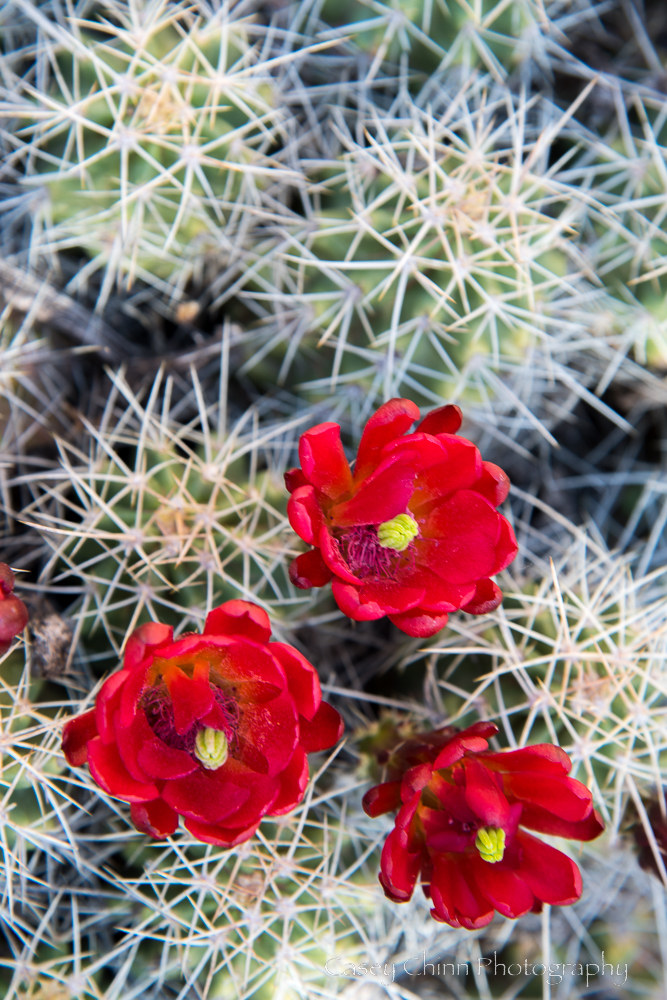 Red blooms on barrel cactus
The hike down in was beautiful, marked by blooming plants and cactus, and the trail which crisscrossed the stream bed wound slowly down deeper into the canyon. I would soon discover that the water I was seeing here would become very scarce further down in. The signs of the drought were here too. I marveled though at the enormous cottonwoods that stood in the mostly dry Creek bed. Such amazingly hearty trees. The shade was welcome too, even in the relatively mild temperatures of May.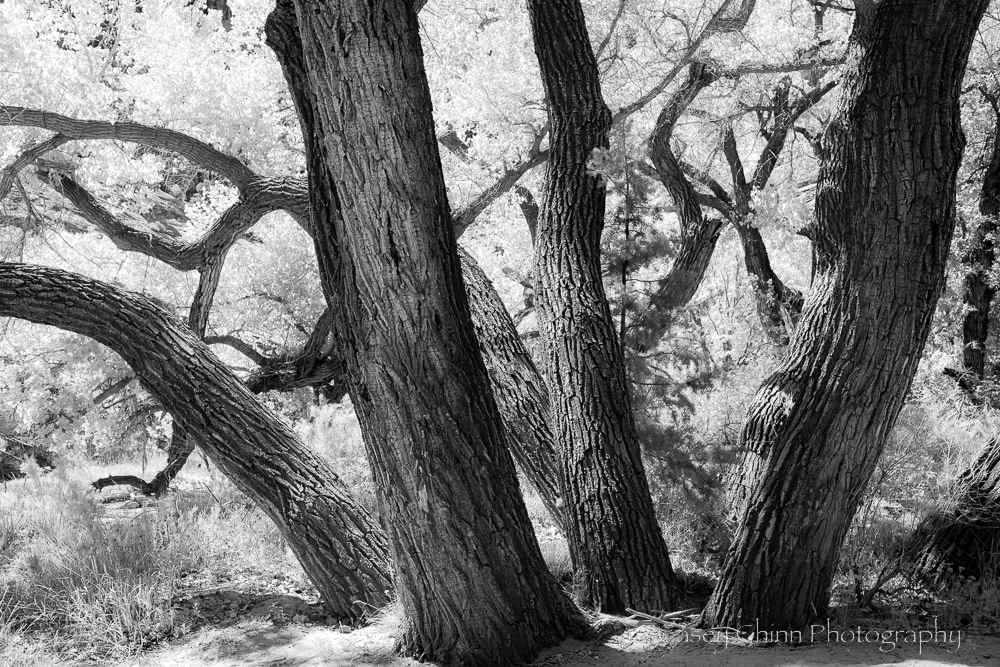 Cottonwood trees rising from the earth in Grand Gulch, Utah
Once I arrived where Kane Gulch meets with Grand Gulch I found Junction Ruins. This was relatively early on in the hike, about four miles in. They are amazing little structures built into a narrow alcove in the rock wall. Probably more for grain storage or something like that than they were for actual dwellings. The thing that continually amazes me is how well-preserved these structures made from stones and mud remain in the arid desert climate.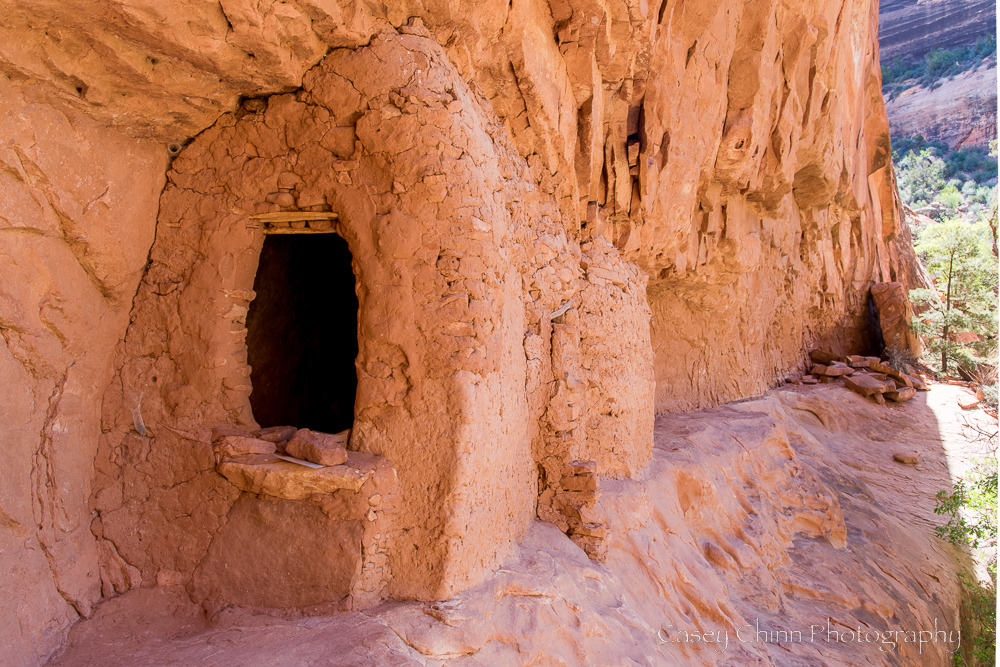 Junction Ruin, Grand Gulch Utah
At this point of the trip I began to enter Grand Gulch proper, although the name is deceptive because it is very definitely a canyon at this point with fairly steep walls and few access points in. The ruins and rock art appear around almost every corner it seems. Many of the South-facing alcoves have some kind of structures built into them, some even have pottery shards and stones worn smooth where the Anasazi used to grind corn, complete with small pieces of corn still intact. As I stated before, the dry desert climate preserves the artifacts amazingly well.
I will leave the rest of this amazing area for the next installment.