The making of "Above and Below"
Sep 03, 2020
This image, entitled "Above and Below", has garnered a lot of attention and comments in my art festival appearances in the last couple of years, and for good reason. It is a unique photo, full of drama and energy, that I feel fortunate to have captured. Here is how it came about.
One summer evening in August I was at my home in Colorado Springs and saw a dramatic thunderstorm forming over the mountains. A common occurrence on the front range in the late summer. Hoping to possibly capture something interesting I grabbed my camera and drove the short distance to Palmer Park, a large natural park area on some bluffs in the middle of the city.
As quickly as I could, I hiked up a trail which brought me to a higher ridge where I had an unobstructed view of the mountains to the west. I began working quickly as the storm was changing at a rapid rate and creating a dramatic dance of light and shadow over the foothills.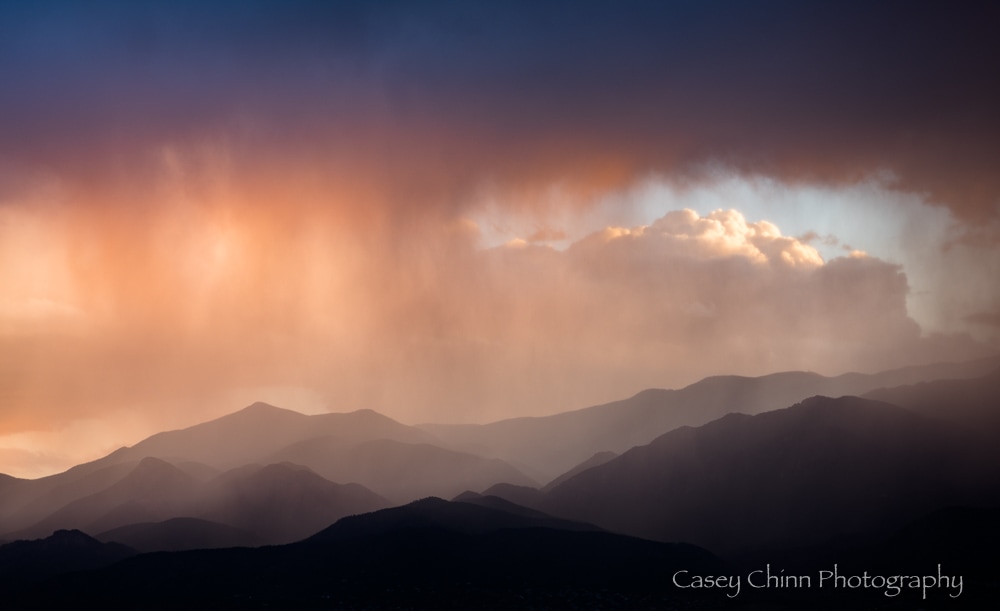 Image taken a few minutes before the final, looking southwest.
At one point, as the sun was setting, I took some photographs of the clouds and used some of the small trees and brush to help create a sense of scale and foreground. I knew at the time I took these that there was an unusual quality to the sky, with the clouds being lit from below by the setting sun, and the darker blue above, yet I didn't have much time to study that as the sky continued to change. I made a few more quick exposures before the setting sun faded and the storm moved on to the north and east.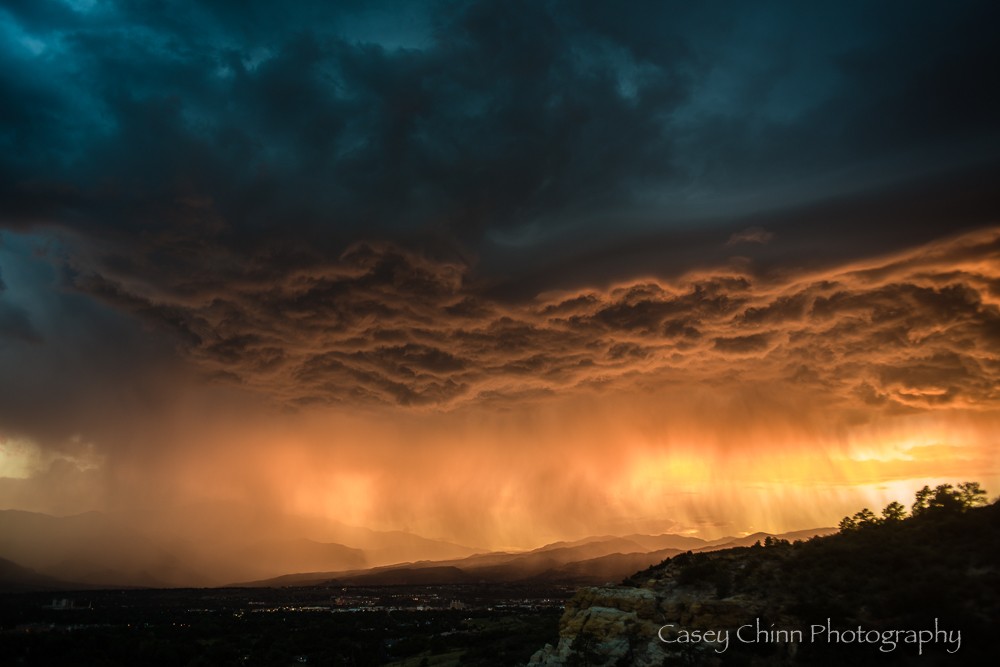 Image of the entire sky and the city below, just before I moved to the position I took the final photo from
When I returned home and began sorting the images I more fully realized what an unusual phenomenon I had captured. I have never before or since seen clouds like this wherein the orange of the setting sunlight on the bottom is mixed with the blue above. I worked with the image in Lightroom and Photoshop, adjusting the contrast of the foreground so that the trees were only silhouettes, and drawing out as much detail as I could from the virga rain on the underside of the clouds. I ended up with a piece that has become a unique addition to my body of images that I display at festivals. It always generates questions and comments.

This photo is an example of something that can't be planned but requires just being responsive in the moment. I'm grateful to have had the opportunity and skill to capture it.
For those interested in the technical details, this was taken with a Nikon D810, 55mm lens, f4.5 @ 1/20th. ISO 64.