The making of Moon Over Stormclouds
Mar 19, 2021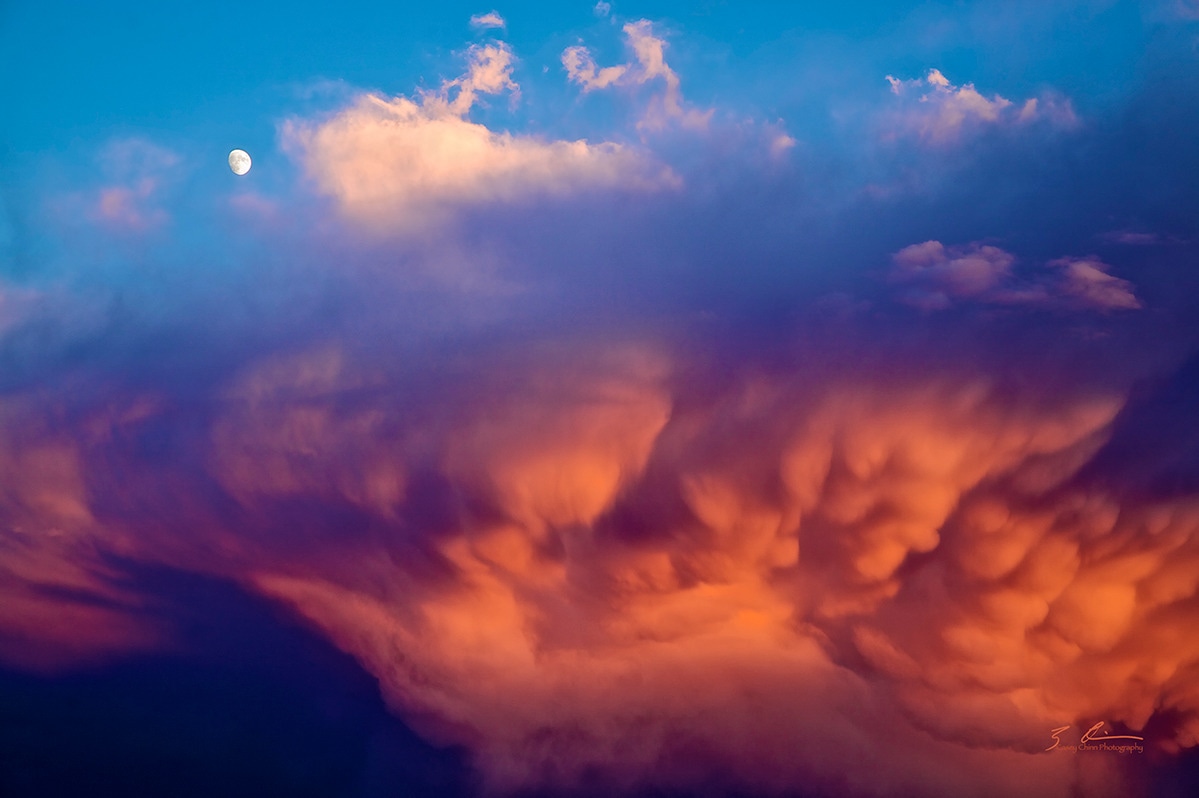 Moon over Stormclouds
Colorado Springs, CO

As I was looking through my images, trying to decide which to feature this month, I was surprised to discover that I've never talked about this one. Even though it's become one of my more personally iconic images. It's on the front page of my website, and on my business cards, and provides a backdrop for my art festival signs. And yet, I haven't written about how it came to be, until now.

People have often asked if I was in an airplane when I took this photo. I actually was not. I was on a high hilltop in Colorado Springs that has a wonderful view of Pikes Peak to the West, and the planes stretching out South and East of town. For those familiar with the Springs, I was just off of W. Fillmore St , almost at Mesa Rd.

On this particular evening, I had stopped and was photographing some interesting clouds that were forming. Almost the photographers' equivalent of doodling. Not really taking photos that wound up being a much importance at all. As I turned my attention to the east, I discovered some beautiful thunderheads forming out over the plains. As I watched and photographed these for a while, the sun began to set behind me and a beautiful red glow of light descended on the clouds.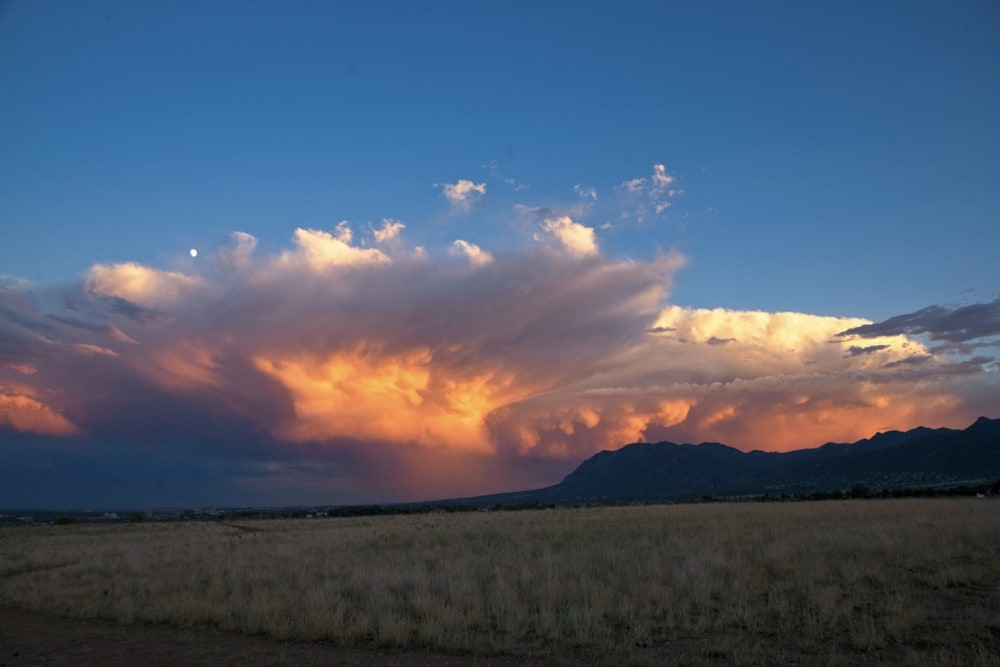 Brewing storm
The image above is a wider view of the scene, showing the thunderhead forming over the plains and Cheyenne Mountain on the south side of Colorado Springs.

I zoomed in closer, cropping out the land and focusing just on the clouds and the emerging moon. As the sun continued to set the colors in the sky became more intense. I took several images as this gradual transition happened, and the image that I chose to use from this photo shoot was one of the last that I took that evening.

I subsequently named the photo moon over storm clouds, although my former wife wanted to call it Late for Dinner. That's because we had family visiting in town and I was out goofing around with the camera instead of coming home for the family meal. Later she told me that when she looked outside and saw the sky, she knew exactly where I was, and why I wasn't answering my phone.

My being late for dinner was forgiven, and gratefully I had an image from that evening that went on to become one of my most popular in my early art festival appearances, and one that has provided a wonderful backdrop for so much of my marketing materials, not to mention many years of enjoyment. This image is also an example of being at the right place at the right time. Something that we landscape photographers strive to do, but or not always successful at. This particular evening, I was given that gift.
For you budding photographers, here are the camera details: Canon 5D, 24-105 lens at 84mm, f/7.1, 1/20th sec., at ISO 100.