The Making of Stormy Bells
Feb 26, 2021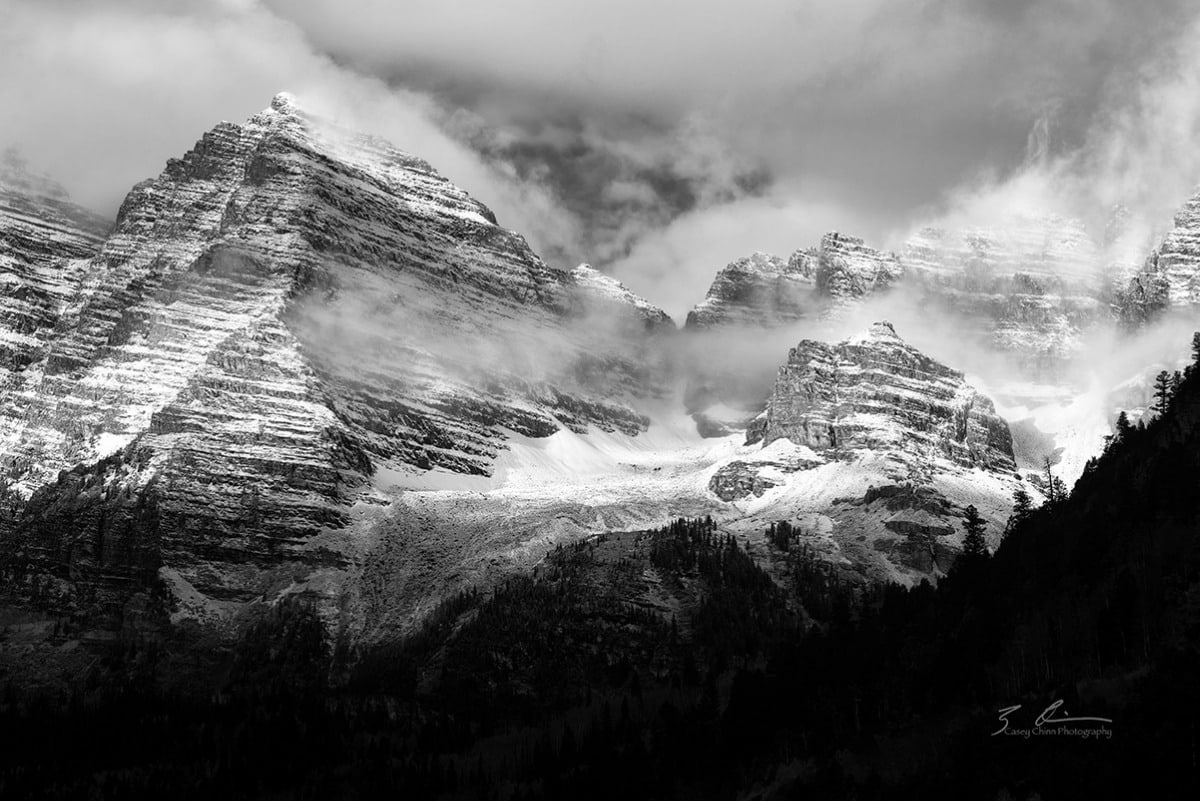 Stormy Bells
near Aspen, Colorado

This is an image that has become one of my favorite black and white photos. And just like last month's featured image, Crystal Mill and Stars, this represents an attempt to capture an iconic Colorado location in a slightly different way.

Stormy bells, despite appearing as if it was taken on a winter's day, was actually captured on a fall photography trip. I had been staying at a campground nearby and head awakened that morning to overcast skies and the mountains being socked in. I made my way to the Maroon Lake area on the off chance that I would get a break in the weather. This is a common situation that all landscape photographers know very well. You awaken early in the morning only to find the weather conditions undesirable, but you still make your way to the area you want to photograph just in case the weather breaks. Sometimes it pays off and sometimes it doesn't. This time happily it did.
While the Sky was still overcast, I had begun to hike up the trail that ascends past the Lake. I saw that the storm was beginning to clear around the mountains, and I found a good vantage point where I could get some of the forested hillside in the foreground and the mountains in the background as their fresh mantle of snow from the night before began to become visible.
This kind of interaction between mountains and storms is always fascinating to me, and I often like to render these images in black and white to really help me emphasize the delicate details in the clouds and craggy mountain textures. This image was no exception. The black and white version helped me focus in on just that and create what I think is a dramatic and beautiful recreation of this scene.

As the Sky began to clear more, I realized that I would have a chance at a nice image of the mountains reflected in Maroon Lake, which is a much more traditional approach to this location. I hurried down to the Lake and was able to capture a number of images there as the sun continued to light up the hillsides in front of the mountains. One of the resulting images, Bells Reflections, has also become one of my most popular at art festivals.

It is certainly not every day that I get to capture two of my more successful landscapes in one day, but happily that was the case on this day.
Make sure and leave me a comment and let me know what you think of these images, or any others on my website.